When your baby is sleeping, so are you!!!
MamaLittleHelper's Toddler Hammock is uniquely designed to help babies and toddlers sleep better. Young babies feel foreign in this world since they have been living in mama's womb for over 9 months. MamaLittleHelper's toddler hammock mimics being in mama's womb: snuggled, safe and secure. According to an article, babies grow when they sleep. According to a research, 80% of this growth hormones is produce when your baby is sleeping. Therefore, "Your baby needs sleep to enable her body to produce those hormones". The toddler hammocks can be used by newborns all the way to 2-3 years old.
Parents can rest assure to gain back some sleep and perhaps much needed rest. MamaLittleHelper launched a new line of affordable infant, baby and toddler hammocks to make child-nurturing an easier process for mothers and fathers.
Please use with adult supervision ONLY. Do NOT leave baby unattended. This is not intended to be used as a recreational toy.
Note that we have a new design that will be sent out for new purchases.
BASIC PACKAGE PRICE - $155.99
COMPLETE PACKAGE PRICE - $165.99
Shipping - $22.00 with Frame
Benefits of the Toddler Hammock
Designed to keep your baby secure & comfortable by gently rocking your baby to sleep as if in mama's arms.

Provides good ventilation and natural cooling sensations like a breeze to keep your baby sleeping all day/ night.

Relieves nursery chores and blesses daddy and mommy to get a peaceful night's rest.

Helps with infant colic & infant reflux. Baby hammocks naturally cause baby to sleep with their head slightly elevated and the Baby hammock comes with 3 levels of elevation. This is particularly helpful for babies with chronic reflux.

Perfect for light sleepers.

The motion combined with the cradling allows your baby to think that he is being cuddled,
similar to being in the womb and that it is safe.

It relaxes your baby and allow them to sleep comfortably.

No more flat heads!

Designed to keep babies sleeping on their back – the safest sleeping position for babies.

Perfect for toddlers who run around in their room before sleeping, put them in there and they will be asleep before you know it and parents can

Can be use like an Arms Reach, be placed next to a bed.

Perfect for day naps or night use.

Completely portable, takes less than 5 minutes to assemble and no tools required. No matter where you are, baby gets to sleep in their own familiar bed. They are lightweight and take up less space than other beds.
Toddler Hammock Help For Acid Reflux Babies
The latest design comes with 3 levels of elevation. One of the biggest difficulties of raising a baby with acid reflux is to get the baby to sleep. As soon as the baby is lay down, they can feel the effect of gravity on their stomach acid is lost. This particular acid is then sent into the esophagus which is acid reflux. This is very painful and for young babies, it is even worst and it causes them to fuss and not sleep. According to most article out there, the best way is to keep the gravity in the equation and elevate the baby's sleeping position to slight incline.
Check out the picture of the different elevation levels that the Baby and Toddler Hammock.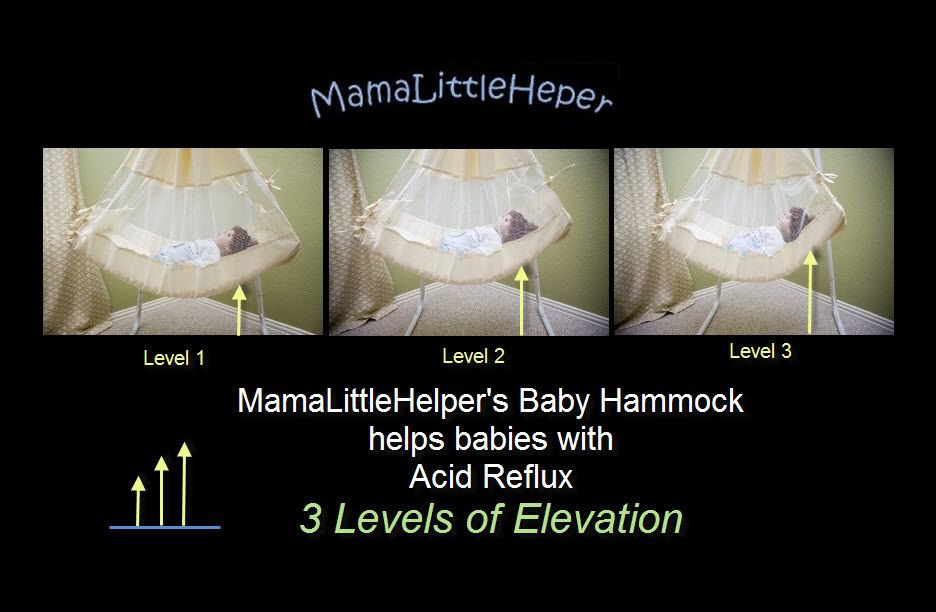 Toddler Hammock Set includes:
Complete Package

Step by Step Instruction

2 X "S" Hooks

1 X Wooden separator

1 X Toddler Hammock**

1 X Sponge Mattress

1 X Spring Cover

2 X Mattress Sheets

1 X Stand (Frame)

1 X Safety String

1 X Travel Bag

Available Colors: Beige or White

** Hammock and mattress is 100% cotton with no dye, AZO free and is very safe for babies. Comes with sponge mattress.
Specification of the Toddler Hammock :
Recommended Weight and Age Limit :
Newborn until 36 months

Up to 36 lbs
** If your baby knows how to turn over, please be extra careful. Please refer to the safety instructions in the instructional literature for the safety information.
Pictures: