Say NO to OUCH!
Breastfeeding mothers can now enjoy the comfort of luxuriously soft bamboo nursing pads that are cool, breathable, anti-bacterial and super absorbent. This nursing/ breast pads are made of bamboo, and that makes these nursing pads extremely soft, smooth & non-bulky. Don't be fooled by its thinness - they are more absorbent than regular cotton nursing pads. Various tests have been conducted and proven that bamboo absorbs better than cotton.
Each set comes with 4 pieces
MamaLittleHelper is made from natural rayon from bamboo fibers.
NOW AVAILABLE FOR SALE
SUGGESTED RETAIL PRICE: $5.99
INTRODUCTORY PRICE: $3.99
FOR BULK PURCHASES, PLEASE EMAIL US AT info@mamalittlehelper.com
Bamboo Nursing Pads
Introductory Price:
$3.99 each
Shipping:
$1.35

Available Color: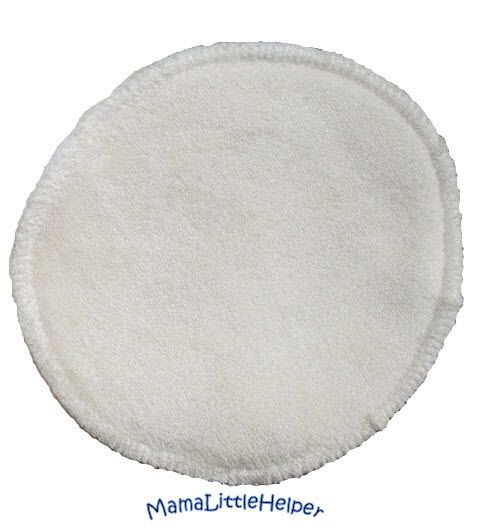 Natural

Bamboo Nursing Pads
Introductory Price: $3.99 each
Shipping: $1.35






Why Bamboo?
Bamboo dries 3 or 4 times faster than cotton - The faster it dries, the more comfortable your baby will feel.
Bamboo can be worn all year round. It keeps babies cool during the summer time and warm during winter time.
Bamboo is softer than cotton - Makes babies comfortable and happy all the time.
Bamboo is naturally anti-allergic and antibacterial.
Bamboo is a natural organic product - environmental friendly!
Bamboo has higher absorbent levels - About 65% to 75% more absorbent than regular cotton.
Babies who has sensitive skin or who are allergic to fabrics made from other materials find that they will have no problems with the bamboo.
Bamboo has lots of micro holes, it makes breathability superior to that of cotton.
100% Biodegradable
Benefits of MamaLittleHelper's Nursing Pads:
Absorbent layers of natural fabrics surged together to form a soft, reliable, washable nursing pad.

Extremely soft and luxurious

Hypoallergenic as well as naturally anti-bacterial - Perfect for mom with sensitive skin.

Pad for longer lasting, make it reusable, making it more affordable.

It's easy to care for - machine wash and tumble dry.

Its porous fibers comfortably wicks moisture away from skin.
What is included:
Each set comes in 4
Washing and Care instructions for your new MamaLittleHelper Nursing Pads
Care & Wash Instructions:
Hand wash or machine wash. If it is machine wash, please do not overload your washer. Use Hot or Warm water and cold rinse
Optional – Add ½ cup of baking soda to cut down odors. ½ Cup of vinegar to soften, whitens, sanitize, remove soap residue and deodorize
For semi – solid to solid diapers, remove solids into the toilet or trash. After that, wash the diaper. Best to wash diaper as soon as possible
Detailed washing and care instructions will be sent with diaper(s)
Please contact us at info@mamalittlehelper.com for any questions.